Join us on the water!
We're always looking for passionate volunteers. Here's some information to consider before volunteering with us in our 2019 season!
June & July Lake Information
Days: Mondays & Thursdays (Tuesdays & Fridays are tentative make up days for rain)
Time: Kids are on the lake from 11am-5pm
Location: 7 Points Recreation Area, J. Percy Priest Reservoir
We prefer to have volunteers for the entire duration of each day so we don't need to stop activities to shuttle people to the dock during the day. If we are low on volunteers for a day, we will certainly accept any window of time available.
August & Sept. Lake Information
Days: When school begins, Saturday or Sunday will be utilized depending on weather
Time: Kids are on the lake from 11am-5pm
Location: 7 Points Recreation Area, J. Percy Priest Reservoir
Daily Lake Program Itinerary
11 am: Kids arrive at 7 Points Recreation Area boat launch
11 am-12pm: Free time on the pontoon and lily pads. Optional meal time for the group that would eat last.
12 pm-4 pm: Kids are placed into three groups and go to their designated boats. Groups rotate every hour and twenty minutes between the three boats. Tubing will be the main activity on the ski and surf boats. On the pontoon, kids will eat, have a brief lesson, and enjoy free time swimming, jumping, diving, and more.
4pm-5pm: Reward time for kids who have earned behavior points
Potential rewards: Surfing, tubing, paddleboarding, etc.
For other campers: Free time on pontoon.
4:30 pm: Staff and volunteers start packing up and preparing to leave.
5pm-5:15pm: Kids are shuttled back to shore and head home in the same vehicles in which they arrived.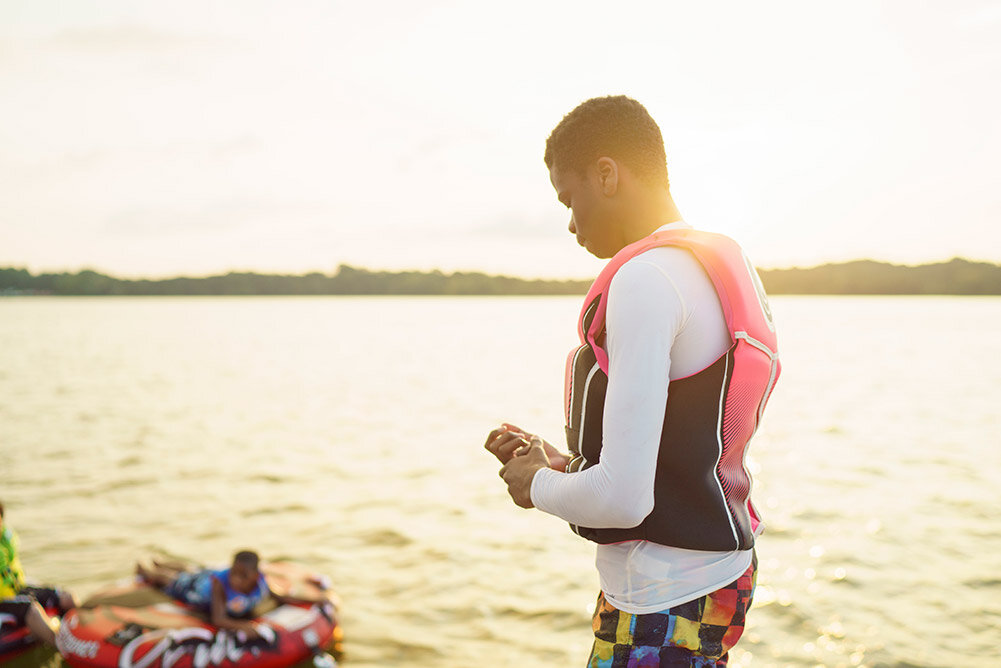 Female: Minimum of 2 and maximum of 4 volunteers/day
Male: Minimum of 1 and maximum of 3 volunteers/day
June/July: Each week we need 2-8 women and 1-6 men.
August/September: One day a week we need 1-3 women and 1-3 men.
Must pass background check (no cost to applicant).
Must complete volunteer application.
Must provide current copy of driver's license.
Must be at least 16 years old.
Must wear appropriate Lake attire.
Swim shorts that come down to at least mid thigh.
UV protected rash guard shirt or any other water safe shirt.
Uniforms will be provided to all volunteers unless proper attire is already available.
Fun in the sun
Encourage kids with positivity as they take on new and challenging activities.
Have fun participating in various watersports and activities with the kids.
If you're interested, you can show up early and learn how to surf!
Help staff with simple tasks
Be a spotter for our drivers as our kids enjoy tubing and surfing.
Help with daily lessons on the pontoon boat.
Be a supervisor in the water as our kids play on the lily pads.
Interested?
Fill out an application!
Need more info? Let us know!